Tournament/Organized Event[PAX Presents]
DRAGONBALL SUPER CARD GAME
BATTLE EVENTS!
October 21~27:Series 1 Championship in Australia
PRIZE

Champion/Runner-up:Certificate
TOP 4:Galactic Battle Sleeves

Shop List

STORE NAME

Cardtastic Collectables

ADDRESS

38B Scottsburn Avenue, Clayton

DATE

24/10/17 7:15PM

STORE NAME

Game Cave / Good Games Nowra

ADDRESS

82 Kinghorne Street, Nowra

DATE

24/10/17 6:30PM

STORE NAME

Gametraders Chermside

ADDRESS

Shop 253 Westfield Shopping Centre, Cnr Gympie and Hamilton Roads, Chermside

DATE

27/10/17 6:45PM

STORE NAME

Gametraders Parramatta

ADDRESS

Shop 2160 Westfield Shopping Centre, 159-175 Church Street, Parramatta

DATE

22/10/17 1:00PM

STORE NAME

Gametraders Salisbury

ADDRESS

Shop 41-42 Parabanks Shopping Centre, Salisbury

DATE

21/10/17 10:00AM

STORE NAME

Get Geeked

ADDRESS

149 Graham Street, Wonthaggi

DATE

22/10/17 1:00PM

STORE NAME

Good Games Bondi Junction

ADDRESS

446A Oxford Street, Bondi Junction

DATE

23/10/17 6:00PM

STORE NAME

Good Games Melbourne

ADDRESS

Level 1 / 365 Lonsdale Street, Melbourne

DATE

22/10/17 1:00PM

STORE NAME

Good Games Top Ryde City

ADDRESS

Level 3, Top Ryde City, Devlin Street & Blaxland Road, Ryde

DATE

21/10/17 12:00PM

STORE NAME

Good Games Upper Mount Gravatt

ADDRESS

Suite 8, 2012 Logan Road, Upper Mount Gravatt

DATE

22/10/17 1:00PM

STORE NAME

GUF Geelong

ADDRESS

28 Malop Street, Geelong

DATE

22/10/17 4:00PM

STORE NAME

GUF Werribee

ADDRESS

2/86 Cottrell Street, Werribee

DATE

23/10/17 6:30PM

STORE NAME

Hall of Heroes

ADDRESS

60 Queen Street, Campbelltown

DATE

21/10/17 11:30AM

STORE NAME

Jolt Games

ADDRESS

56 Hoskins Street, Mitchell

DATE

26/10/17 6:30PM

STORE NAME

Next Level Games Moonee Ponds

ADDRESS

109 Buckley Street, Moonee Ponds

DATE

21/10/17 12:30PM

STORE NAME

Simply Gaming

ADDRESS

14/296 Windsor Street, Richmond

DATE

23/10/17 6:00PM

STORE NAME

Sunbury Game Shack

ADDRESS

13A Brook Street, Sunbury

DATE

20/10/17 7:00PM

STORE NAME

TAK Games

ADDRESS

Wadham House, 52 Wadham Street, Mt Waverley

DATE

22/10/17 1:00PM

STORE NAME

TAK Games

ADDRESS

81 Musk Avenue, Kelvin Grove

DATE

22/10/17 1:00PM

STORE NAME

The Wicked Goblin

ADDRESS

Shop 6, 90-92 Lake Street Level 1, Cairns

DATE

21/10/17 2:00PM

STORE NAME

Top Deck Games

ADDRESS

Suite 1, Unit 1-2, 131 Harvester Road, Sunshine

DATE

21/10/17 6:00PM
October 27~29:Sneak Peak Event at Pax
Access

Melbourne Convention and Exhibition Centre 1 Convention Centre Pl, South Wharf VIC 3006

Date

Friday 27/10 5:30pm start
Saturday 28/10 1pm start
Sunday 29/10 10am start

*These events are for 24 Players
October 27~29:DRAGON BALL SUPER CARD GAME TOURNAMENT at PAX
PRIZE

TOP1:Trophy
Top4:Galactic Battle Sleeves
Entry Prize:Tounament pack vol.1


*These events are for 24 Players

Access

Melbourne Convention and Exhibition Centre 1 Convention Centre Pl, South Wharf VIC 3006

*These events are for 64 Players

Date

Friday 27/10 12pm (midday) start
Saturday 28/10 10am start
Sunday 29/10 10am start
PRIZE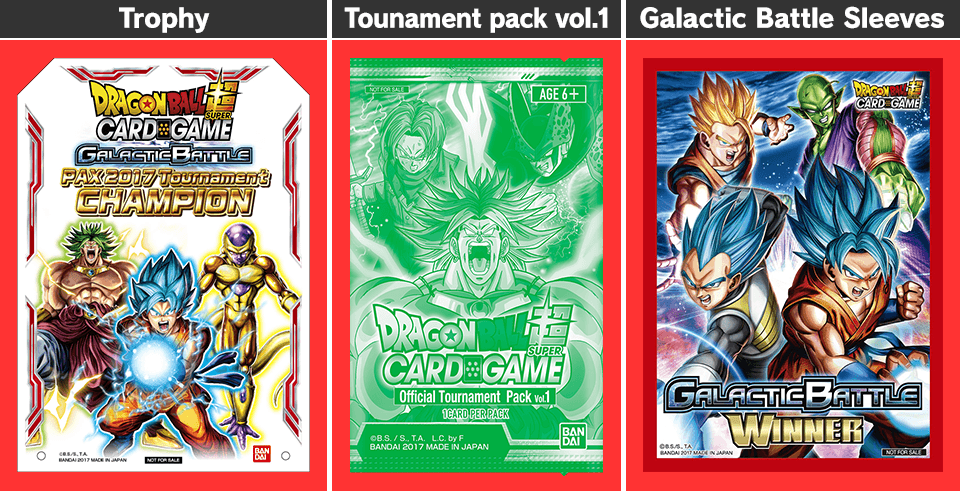 8-person Learn to Play events!!
These events will be run on participant demand(as soon as 8 players are signed up)The tournament will kick off.
Tournament participants will receive free materials to construct a deck.
In addition to this,demonstrations will be running throughout the convention at the TAX Games booth (TT728).
*The image may differ slightly from the actual product.
*Event detail may vary without warning
*These event are organized by TAK Games.
*TAK Games will assume responsibility for these events.