Exhibition Event

Dragon Ball Super Card Game
2021 North America Final Championships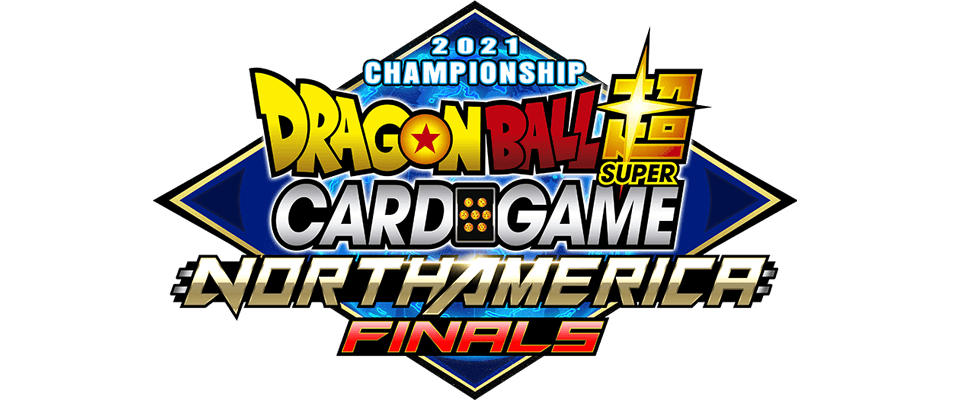 Bandai is proud to announce Core TCG will present the Dragon Ball Super Card Game 2021 North America Final Championships in Pasadena, California on November 20th and 21st! Train hard, practice well, and be prepared to seize your ultimate victory at the Final Championships!
Pre-registration for this event is essential. COVID-19 safety measures will be in place, including mandatory mask wearing. Stay safe, stay super!
Details
Event Name
Dragon Ball Super Card Game 2021 North America Final Championships Presented by Core TCG
Schedule
Friday 19th November:

4 PM - 8 PM: Check in for Final Championships

Saturday 20th November:

7 AM: Doors Open
9 AM: Round 1 Pairings Posted
9:15 AM: Final Championships Player Meeting
9:30 AM: Final Championships Qualifying Rounds Commence

Sunday 21st November:

7 AM: Doors Open
8:30 AM: Final Championships Top Cut Players Meeting
9 AM: Final Championships Top Cut Commence
10:30 AM: Unison Warrior Series Championship (Side Event)
Location
Pasadena Convention Center - Exhibit Hall A
300 E Green St,
Pasadena, CA 91101 US
Accommodations
The Sheraton Pasadena is adjacent to the Pasadena Convention Center, and the Hilton Pasadena is also steps away from the entrance of where the Final Championships will take place. Both these hotels are offering a room block at discounted rates for our players at the links below. There are also many other options that are within walking distance of the venue.
Sheraton Pasadena
303 Cordova Street
Pasadena, CA 91101
Hilton Pasadena Room Block
168 South Los Robles Avenue
Pasadena, CA 91101
Final Championships
Pre-Registration
https://www.eventbrite.com/e/dragon-ball-super-card-game-north-america-championship-final-registration-179415946927
Qualified players can use the link above to pre-register for this event. Each player intending to participate in this event is required to Pre-Register for this event. Players who are qualified for this event but do not register will not be allowed into the venue nor allowed to participate in the event. Players MUST have an invite in order to attend the Final Championships and/or Side Event.
Check-In
On Friday, November 18th at 4 pm you'll be able to check in to the Final Championships presented by CoreTCG. In order to check in, please show the following:
- BCC Screenshot that indicates you are a Finalist and displays your National Championship invite and BCC ID
- Personal photo identification
Pre-registration for the event will be required through Eventbrite. No registrations will be accepted on the day of event. No exceptions.
COVID-19 Safety
To ensure the health and safety of all participants during the US Final Championships, mask wearing will be required in all indoor spaces. You must be wearing a mask that covers the nose and mouth while attending unless you are actively eating or drinking. We strongly recommend that attendees are vaccinated for the event, and you may be required to show proof of vaccination to attend.
VACCINATION UPDATE:
Due to revised Los Angeles county laws and government mandates, all attendees, judges and staff for the event must show proof of vaccination or show a negative COVID-19 test result within 72 hours of Saturday, November 20 to attend the event. Attendees must present evidence confirming that at least two weeks before the start date of the event, they received a final dose of a vaccine recognized on the World Health Organization Emergency Use Listing. Current vaccines on the WHO EUL list (as of October 9, 2021) include Pfizer, Moderna, AstraZeneca, Janssen (J&J), Sinopharm, Sinovac and Covishield.
Attendees to the event will be able to expedite their check-in process by uploading proof of their vaccination status ahead of time. Details on this process will be emailed to registered attendees in the two weeks prior to the event.
We appreciate your patience and understanding in making an event safe for all attendees that follows local laws and mandates.

MASK POLICY:
All attendees present at the event are to wear masks covering their nose and mouth at all times.
No food or drink will be allowed to be consumed in the main hall to maintain the mask policy. Attendees may go to the lobby area or outside the venue to consume food or drink. Attendees found to not be following the mask policy will be given one warning. If further violations occur, attendees will be asked to leave the event premises immediately. If participating in the event, players will be dropped without any further prizing.

CLOSED EVENT:
The Final Championships event is a closed event. Only players participating in Finals can attend. Guests of participants are not allowed to enter the hall, unless they are parents or legal guardians of children under the age of 18 competing in the event, or a medical companion to a competitor.
*Please carefully review the Floor Rules for the event.

Side Events
Unison Warrior Series Championship
Which Unison Warrior will reign supreme? Using only cards from Unison Warrior Series, from Set 1 -Rise of the Unison Warrior- onwards, players will construct a deck and play to discover their Unison Warrior champion! (All cards must have the UW icon on the bottom right of the card. Starter Deck, Expansion Set, Promo Cards etc. with the UW icon are legal for this event.)
Important Notes
- Schedule and contents are subject to change at the discretion of tournament organizers.
- All images posted are for illustrative purposes and may differ from actual prizes.
- Bag checks will be performed at the event for security reasons. Possession of dangerous materials is strictly prohibited.
- Any photos or videos taken by staff during the event may be used on the official website or official social media pages.
Public Transportation from LAX to the Pasadena Convention Center
There are multiple ways to get to the Pasadena Convention Center from LAX. One of the more popular ways will be to take public transit to the venue. If you will be taking public transit to the venue, please follow the instructions below to take the simplest route from LAX to the Pasadena Convention Center.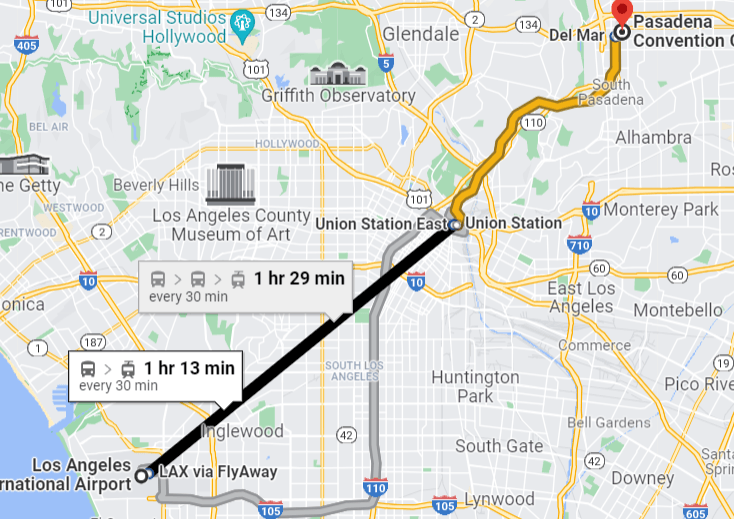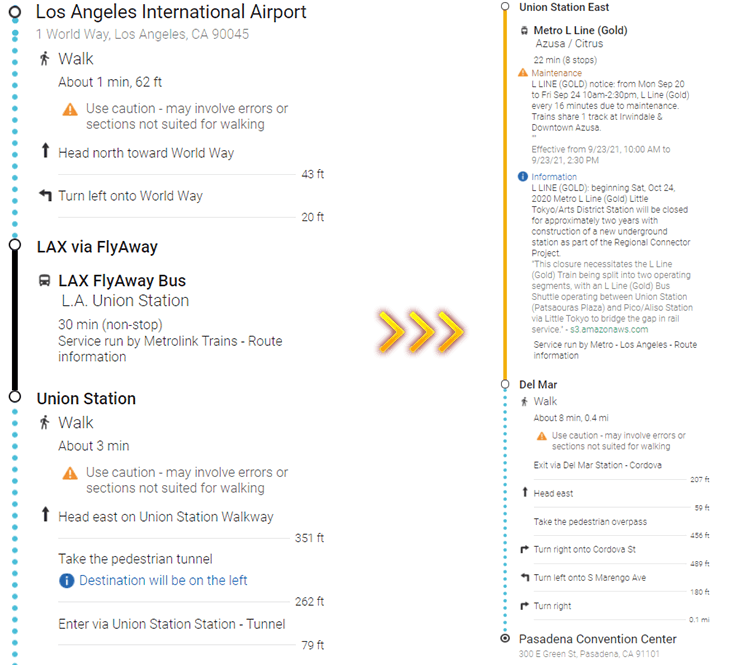 *Please visit the following website for more information regarding this route:
https://www.visitpasadena.com/directory/lax-flyaway/
*Please note that you will have to purchase boarding passes for the LAX Flyway to Union Station Shuttle, a link to purchase passes can be found using this link:
https://www.laxshuttletix.com/
Rideshare Services
Alternatively, you can enlist the services of rideshare companies to assist you in getting to the venue. This will be the simplest method as it requires no transfers, but it is also the most expensive option. To get to the Rideshare services designated area, please follow these instructions:
1. Once you are leaving your flight gate and have all your baggage, please exit to Level 1 of the airport terminal and try to find the LAX-It sign closest to you.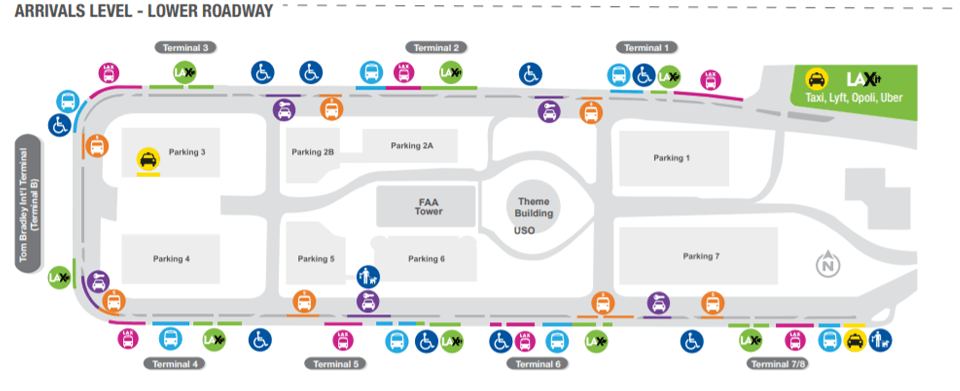 2. Take the Free LAX-it shuttle to the designated rideshare services area just outside of LAX.
3. After you deboard the shuttle, use your app to schedule a ride using the rideshare service of your choice and follow the instructions in-app.